08 Aug 2023
Building the Optimal Warehouse Layout Drives Increased Output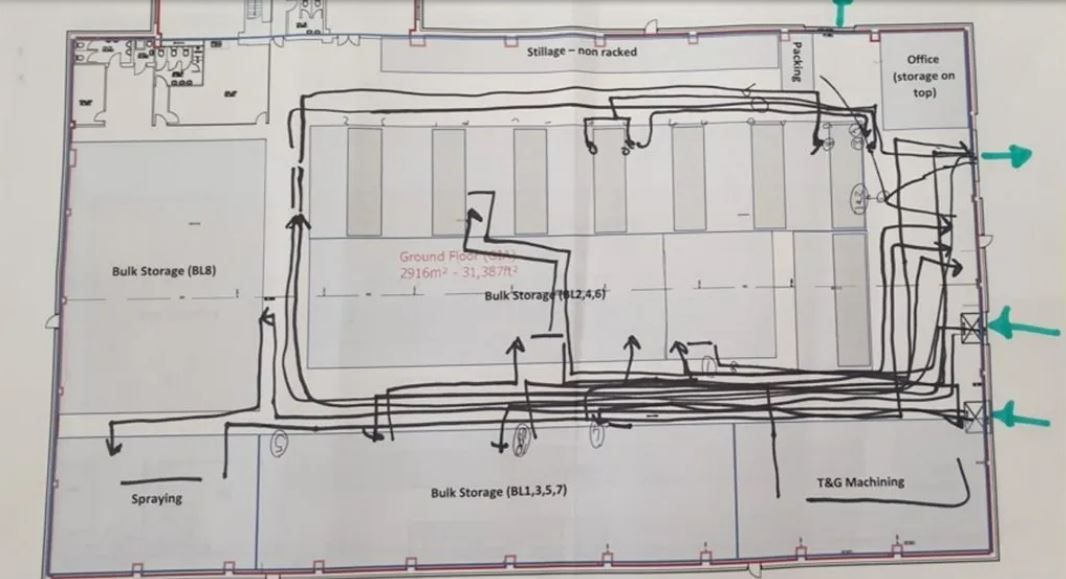 STS Ltd is a leading supplier of building board solutions for applications across construction, fire protection, tile backing, water proofing, ceiling boards, and floor boards based in Leeds, UK.
Having grown rapidly, the company moved into new premises several years ago. However, the temporary layout of the warehouse was beginning to be a concern. If the demand rose to expected levels, they would struggle to deliver on customer expectations without damaging profitability and risks to health and safety.
The Challenge
Having made the significant investment in moving to a new site, STS quickly moved racking and stock into with a temporary layout to keep the business running and minimise disruption.
However, the following problems were beginning to challenge the company:
Congestion from stock in working areas and main aisles

Slowing down movement and creates work
Multiple handing of goods causing damage

Long overseas supply chain means sudden increases in stock level

Lack of space to process and deliver on priority orders

No flow in the warehouse

Increasing transport and movement and "work filling the day"

Unsafe storage of stock – e.g. pyramids of boards

Major risks of an incident due to collapsing rack or pallets

Building is not being utilised efficiently

Height is wasted
Doors not being used to best effect
Before the company came under pressure from the high demand, it made sense to create a lean, safe, and scaleable layout which can be replicated as STS grows.
 With the above challenges in mind, TXM Lean Solutions were engaged to develop a streamlined and optimised new facility layout for STS which would maximise the investment in the new warehouse, significantly reduce costs and mitigate the risks from the unsafe racking.
The Solution
TXM Senior Consultant Tim Scurlock, facilitated a cross-functional team at STS in order to develop an improved layout and flow using the FLDP – Facility Layout Development Process®.
This method results in less racking, less material movement, less space, and minimises total life cost of the layout by effectively positioning labour, minimising energy, material flow, construction costs, and services costs.
Having introduced the STS operational team to the lean methodology, they mapped the order-to-delivery process, including information and product flows for both pick and pack process and associated value-added flows.
Using the TXM Plan – Do – Check – Act approach, the team regularly walked the site to check facts and assumptions on how the business works against reality, and used this to develop the best workflow via Lean layout principles.
Sales analysis identified that Identified 17 SKUs represented 80% of sales and used this to define and developed the ABCD categories. With this data the STS team put in place a bulk stock and layout plan for 80% of products with the remaining stock handling strategy to be developed as the next stage.
The Results
Overall, the STS team created a lean and scaleable layout with the following impressive results:
25% increase output from warehouse from optimised stock locations and pick routes with no additional staff.
£25K annual saving on damaged product due to better and safer handling.
Stock accuracy improved due to rolling 2-week stock take for the top 35 SKU's.
Created the capacity to focus on green credentials, health and safety and sustainability.
In the UK and need help implementing Lean, contact our UK Lean Consultant today.