Extractly
Stand: K50
Supporting Services
Ventilation
Waste Extraction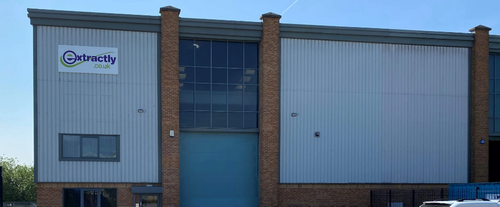 Extractly are one of the leading Dust & Fume LEV Extraction companies within the UK.
We design, supply, install, maintain, and test Dust & Fume LEV Extraction systems.
Together with our ECOGATE® Energy Saving Extraction on Demand system Extractly can provide the latest in Dust & Fume extraction technology.
Extractly is an authorised Nordfab dealer and installer, and one of the UK's leading suppliers of Nordfab Ducting equipment. We can offer highly competitive prices on Nordfab ducting products and we hold a wide selection of popular diameters and lengths in stock for immediate dispatch. Nordfab Quick-Fit® Ducting is the product of choice for customers requiring an easy-to-fit/easy-to-remove industrial ducting solution.
Address
Horace Waller VC Parade
Shaw Cross Business Park
Shaw Cross
Dewsbury
West Yorkshire
WF12 7RF
United Kingdom