HPC Laser
Stand: R58
Machinery
Cutting
Refurbished and Second Hand Machinery
Engineered Wood
Glass
Plastics
CNC
Maintenance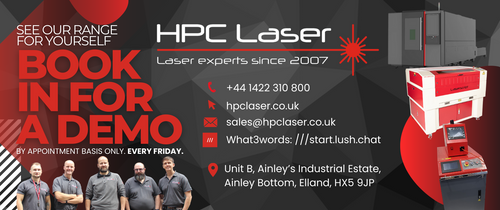 HPC Laser is one of the UK's leading suppliers of CE and UKCA compliant CO2 Laser Cutting and Engraving machines and CNC routers, with a very proud reputation for outstanding customer service and support. Established in 2007, our team of skilled engineers have delivered, installed, serviced, maintained and supported over 6000 machines across the UK.
Used extensively by industry, education, and home-users, our machines are compatible with all key design software packages including Corel Draw, Autocad, Adobe Illustrator, 2D design and many more. Our wide range of machines provide options for cutting and engraving a variety of materials, from wood, card, plastics and paper, to metal, glass, leather, foam and fabric.
We pride ourselves on our industry-leading after sales service, and our lifetime technical support and assistance for our customers means we are here when you need us. Based in West Yorkshire, all our machines are built and tested here in the UK, and our friendly and knowledgeable technical support team are easily contactable and readily available to help you. No call centres, no time differences, no issues!
From a small machine for personal use or crafting in your garage, to fibre laser cutting machines that are the ultimate in high power, precision cutting devices for metals, our range is extensive. HPC Laser Ltd. are extremely competitively priced, and we offer customised and tailored solutions upon request. With a team of highly experienced nationwide engineers, we are on hand to assist when we're needed.
Our CNC Routers are supplied with only the best quality electrical and drivetrain components making them our most stable, powerful, flexible and reliable range of machines to date. Many of our models are available with upgrade options such as rotary and linear toolchangers, vacuum beds and multi spindle arrangements.
Building our machines here in the UK allows us to offer rapid turnaround of tailored solutions depending upon target production rates, design complexity and material and thicknesses to be processed. In addition, all of our machines are covered by a 1-year warranty (exc. consumable parts) to provide you with complete peace of mind.
Unsure where to start or what machine type you'd require? Feel free to contact us for an informal chat - we're happy to talk you through it, give advice and guidance, and provide you with a quotation.
Contact us via email at sales@hpclaser.co.uk or by phone on 01422 310800
Address
HPC Laser Ltd
Castle Mills
Saddlesworth Road
Elland, Halifax
West Yorkshire
HX5 0RY
United Kingdom