KONIG UK
Stand: N68
Energy and Sustainability
Recycling
Reusing Solutions
Painting Coatings Adhesives and Sealants
Paints
Supporting Services
Components
Distributors
Maintenance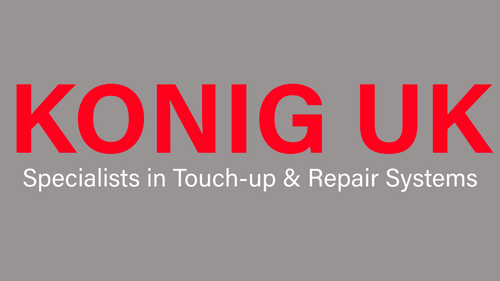 Konig UK have been established since 2001 when we became the sole UK distributor for Heinrich König & Co who are widely regarded as the global leader in the touch up and repair market.
We work with UK's leading manufacturers, installers and service companies in the following markets; furniture, windows, kitchen, bedroom, flooring, caravan/mobile home, marine and polished stone.
We pride ourselves on offering expert advice on the most suitable products for our customers needs. We also provide a range of training courses that are designed to ensure customers use the Konig product range to its full potential. These courses provide a hands-on introduction to the Konig product range and are carried out under the expert tuition of our Training Manager who has been carrying out these courses for over 18 years. These courses have been tailored to each specific market.
An ever popular service offered to all customers is the invitation to send samples to us for us to recommend correct products and colour matches whilst also offering the ability to create unique colour matches as and when required.
We have also become a leading supplier of customer care products in these markets enabling retail customers to maintain products to the highest possible standards. These are always bespoke solutions to each customers requirements and we are happy to provide these branded for your company.
Address
Unit 1 Parade Court
Central Boulevard
Prologis Park
Coventry
CV6 4QL
United Kingdom