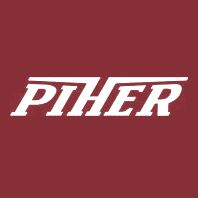 PIQUERAS INDUSTRIES · 60 YEARS OF FAMILY COMPANY HISTORY
Our tools are the best solution for the most demanding jobs
thanks to our specialization in clamping tools over more than 60
years and our constant improvement in materials and production.
The piston system patented by the brothers Ricardo and Juan
Piqueras is the true origin of the mass production of PIHER tools.
Even now, the PIHER factory is still closely tied to the place
where it all began, La Rioja, and with the same family values, it
was founded on.
Ever since its founding has continued with traditional clamping
tool manufacture enhanced bytheir constant improvement, new
patents and innovations. Here resides our hallmark.
STURDINESS AND OWN MANUFACTURING QUALITY
Our products are well known for their sturdiness, efficiency and
versatility. PIHER has become the first choice in the professional
sector when both reliability and durability are essential.
Thanks to our R+D+I department, we continually develop new
tool designs and improvements to our classic tools which we
immediately implement in our factory.
FROM EUROPE TO THE WHOLE GLOBE
Our entry into foreign markets began in 1995 going to our first
international fairs.
The European continent is our main market , but we have
developed a business & logistical network which enables our
tools to be available all over the world.
80% of the tools we sell are designed and assembled in our own
factory in Logroño. The network of suppliers and materials that we
need to manufacture these tools does not go beyond 800km from
our headquarters.
AWARDS & CERTIFICATES
- LYON d'OR Award · Eurobois · France · 2011
Multiprop · Outstanding New Product
-TOP PRODUCT OF THE YEAR · Professional Builder Magazine
UK · 2015 Multiprop · Outstanding New Product
- ISO 9001 QUALITY COMMITMENT
- ISO 14001 EMVIOROMENTAL COMMITMENT
Address
Poligono Cantabria 1
Pescadores 6
Logroño
La Rioja
26009
Spain